Second Baptist Church Community Garden
July, 26 2018
Raye Weigel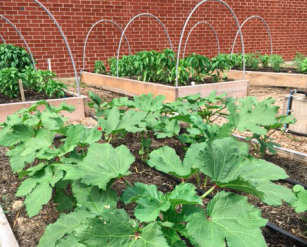 Chesapeake Bay Foundation
The vegetable garden, after construction.
Picture this: cucumbers, swiss chard, okra, blueberries and more are sprouting in a one-acre garden surrounded by pollinator plants. Bees placed by a local beekeeper buzz around the flowers and return to their hives.
This is the idyllic community garden at the Second Baptist Church in Richmond, Virginia. Funded by a grant from the Chesapeake Bay Foundation, the project includes stormwater management features and serves as a vital community resource by growing and selling fresh produce to community members who have amongst the highest rates of hypertension in the state of Virginia.
The Second Baptist Church incorporated stormwater best management practices into the garden design to reduce its stormwater fee.  A 10,000 gallon cistern was installed to capture stormwater, and impermeable parking spaces were removed to accommodate the one-acre garden. The BMPs chosen for the site complement the community garden aesthetically and also serve as an educational tool for community members.
While the success of stormwater management is measured in pounds of pollutants removed from runoff that ultimately enters the Chesapeake Bay, overall success extends beyond water quality benefits. The project stands out in its ability to educate and engage community members.  When the garden first began, the congregation held a three-week workshop series focused on "feeding the mind, body and spirit." Community members who attended the Saturday workshop received a free 4' by 8' raised bed that was delivered to their homes. The workshop took place in June so that participants had the rest of the summer to grow produce.  A gardening program for the local Latino community was also held at the site.
People from diverse backgrounds volunteer at the garden. Students from nearby schools come every fall to help fulfill their civic engagement hours. Volunteers from the juvenile justice system shovel mulch, pick weeds, and pull crabgrass from the blueberry bushes to meet their community service hours. These extra hands do work that the older congregants cannot while also learning about where their food comes from.
Proceeds from the vegetable garden are used to buy compost, seeds and other supplies. The church doesn't make a profit.  Vegetables are sold at a low cost – a bag of mini sweet peppers, for example, costs 50 cents.
While the congregation didn't save as much on its stormwater bill as was originally anticipated, their fee was reduced by about 20 percent.
The project as a whole is continuing to grow.  It is expanding into nearby Centerville and hopes to serve as a model for how other organizations can improve the environment while saving money and engaging the community.
For more information about this project, visit our case story map at: https://mostcenter.org/case-story-content/second-baptist-church-community-garden 
Project Location:  Richmond, VA
Year Installed:  2016
Project Type:  Bioretention
Scale:  10,000 gallon cistern and 1 acre community vegetable and rain garden
Cost:  $200,000
Funding Sources:  Chesapeake Bay Foundation
Contact:  Ann Jurczyk, ajurczyk@cbf.org